Reggae Scrapbook (Hardcover)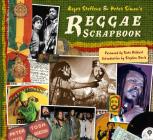 Description
---
From its birth in the vibrant Kingston ghettos of Jamaica through its phenomenal popularity in the 1970s to its iconic standing in today's global culture, reggae and its close relations—ska, rock steady, dj, dub, dancehall, and raggamuffin—have taken the world by storm. In The Reggae Scrapbook, scintillating words and images propel our appreciation of Jamaican music into the 21st century. Guiding us on this colorful book-length journey is one of the men who introduced reggae to America and helped rock the world with its syncopated beat, Roger Steffens. Through lectures, books, magazine articles, radio, and television, Steffens has shared his knowledge of reggae from coast to coast. He is the world's premier archivist and collector of reggae memorabilia, and brings the best of his in-depth interviews with such reggae legends as Peter Tosh, Jimmy Cliff, and "Toots" Hibbert to this unique scrapbook. Covering topics such as "Roots and Ska," "Rock Steady," "The Golden Age," "Rockers, Digital and Dance Hall," and "Internationalization," and supplemented with sidebar features on historic figures, styles, and events, The Reggae Scrapbook demonstrates the bold statement made by the rise of this irresistible musical and social force. Already the book is gaining powerful critical comment - "Rich in political, religious and herbaceous context, this lively package is primer for the uninitiated and treasure trove for the fan," raved the San Francisco Chronicle. Includes the following special features: A DVD of interviews with reggae greats by Roger Steffans (see a preview on YouTube) Facsimile reproduction of autographed flyers, album covers, posters, postcards, and tickets. A collection of evocative images by photographer Peter Simon, from reggae's rough beginnings to the latest festivals, providing a stunning visual accompaniment. The best of Roger Steffens collection of more than 30,000 photographs and more rare memorabilia!
About the Author
---
Roger Steffens founded the Roger Steffens Reggae Archives, the world's largest collection of Bob Marley materials and other reggae memorabilia. Steffens is the co-host of the internationally syndicated Planet Reggae radio show and the author of several books on Marley and reggae history.

Toots Hibbert and his band, Toots and the Maytals, are ska and reggae legends. The winner of both a Grammy Award and the Order of Jamaica, Toots has toured and collaborated with such bands as Willie Nelson, Eric Clapton, and the Rolling Stones.

Over the course of his nearly 40-year career, Peter Simon has covered an eclectic range of subjects documenting everything from the spirit of the free love and protest-filled 1960s and the greatest names in rock 'n' roll, reggae, and pop music to the acti
Praise For…
---
"Rich in political, religious and herbaceous context, this lively package is primer for the uninitiated and treasure trove for the fan,"
-The San Francisco Chronicle.

"Reggae Scrapbook, a dazzling homage to the music and its birthplace. Simon's magnificent photos are interspersed with his and Steffens's text historical morsels, interviews with reggae greats, frontline reminiscences about the music scene and replicated goodies from the archives: concert handbills, autographed records, album covers, fliers promoting reggae shows in places as far-flung as Israel and Germany. Their work is evidence that fandom has all the trappings of religion: here are holy artifacts, testimonials, even lists of places to worship (i.e., global reggae festivals)."
Baz Dreisinger, The New York Times

"A highly designed full color coffee table book, a cross between 'Griffin & Sabine' and 'Be Here Now'..."
Perry Garfinkel, The Huffington Post

"The equivalent of spending a long evening with a friendly, eager collector, it's hard not to get caught up in the authors' enthusiasm. Fans will find all their favorites here in bright, full-color photographs, from lesser-known but seminal figures like Joe Higgs to legendary figures like Lee "Scratch" Perry, Peter Tosh and Bob Marley. The authors frequently share their own vibrant, first-hand experiences with the performers: Judy Mowatt discusses a performance in Zimbabwe with Marley that turned into a riot; eccentric Perry provides a tour of the "Throne Room," his home studio; and Steffens recounts the time he presented Peter Tosh with a marijuana bud the size of a cricket bat. Augmented with a DVD featuring a handful of interviews with artists and hundreds of candid snapshots, it's the next best thing to a trip to Jamaica."
- Pulishers Weekly

Copyright © Reed Business Information, a division of Reed Elsevier Inc. All rights reserved.