Super Ada's Adventures: Time To Save The Ocean (Hardcover)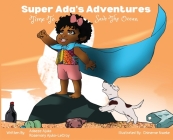 $22.98

Usually Ships in 1-5 Days
Description
---
Ready to be a Superhero? Join Super Ada and Aja as they go on an exciting adventure to save the ocean from plastic.
Super Ada's Adventures - Time To Save The Ocean is the first in a series of a story about a little girl in Lagos called Ada. She has a puppy called Aja and they go on awesome adventures together, trying to solve big problems in their own little way.
Ada is a superhero and she says we don't need superpowers to be superheroes. We only need to believe in ourselves and try to solve the problems we see around us.
In this adventure, 'Time To Save The Ocean', Ada and Aja are trying to solve the problem of plastic pollution in the ocean by cleaning up their own local beach. You should see all the fun they had doing it
Proceeds from Super Ada's Adventure storybooks go towards purchasing school supplies for school-aged girls in under-served communities in Nigeria through the Ajuka Foundation.